Corn Protein Hydrolysate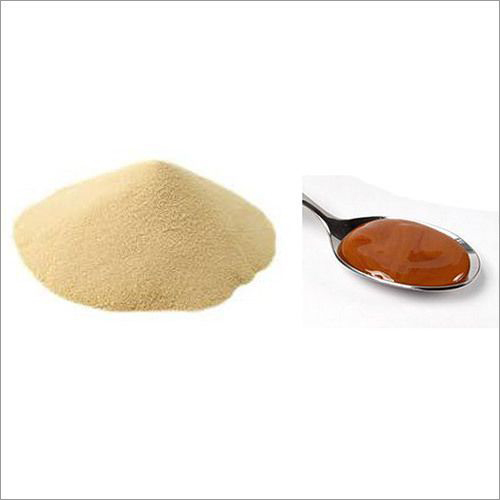 Corn Protein Hydrolysate
Product Description
Corn Protein Hydrolysate provided by us, is mainly used for flavouring the meat products. This protein acts as a used as a flavour enhancer in food. This provides umami taste in processed foods like soups, chilis, sauces, meat products, and frozen meals. This is very much liked and used by people in the market. Corn Protein Hydrolysate has a yellowish colour and an aromatic smell similar to corn fermentation. This protein has high hardness, low moisture content and less dissolve in water. This is very effective and economical to use.
Brief Specification :
COLOUR: Cream to Light yellow
SOLUBILITY: 100 % in water
pH: 5.0 to 7.0 at room temp.
LOSS ON DRYING: Max 6 %
TOTAL NITROGEN: Available Range 9.6 to 12.8 % (Protein - 60 to 80 %)
TOTAL PLATE COUNT (Microbial) : NMT 10000 cfu per gr
CLARITY: 5 % solution in in water is crystal clear with out sedimentation
Packing :
25 KG Paper bag with inner PP lining, double sealed and stitched. (Wooden pelleting can be done for Exports.)
OR 25 kg HDPE drum with inner PP bag double sealed
STORAGE: In dry conditions
SHELF LIFE: 2 years from the date of packing (in recommended storage conditions)
FAQ
1. What function does hydrolyzed corn protein serve?
Ans - Together with hydrolyzed soy protein, hydrolyzed corn proteins are mostly used to flavour meat products. Its primary purpose is to provide umami flavours to processed foods including meat, chilli, sauces, soups, spice blends, gravies, side dishes, frozen dinners, and other culinary items.
2. What implications does hydrolyzed corn protein have on health?
Ans - Anxiety, asthma, attention deficit disorder, bloating, burning feelings, carpal tunnel syndrome, chest pains, depression, diarrhoea, confusion, dizziness, drowsiness, infertility, insomnia, and heart conditions are some of the negative consequences of hydrolyzed protein.
3. Is hydrolyzed protein from corn secure?
Ans - Proteins that have been hydrolyzed are produced by separating amino acids from food. Generally, to achieve this, food is first cooked in hydrochloric acid before the solution is neutralised with sodium hydroxide. As disgusting as this may sound, the FDA regards these foods, if you can even call them that as harmless.
4. Is water soluble hydrolyzed corn protein available?
Ans - Description A chosen enzyme pool produces the water-soluble corn protein hydrolysate known as MAYSOL, which contains a high concentration of free amino acids (particularly leucine, proline, and sulfur-containing AA) and short peptides.